The Best of 'bowling Places Near Me'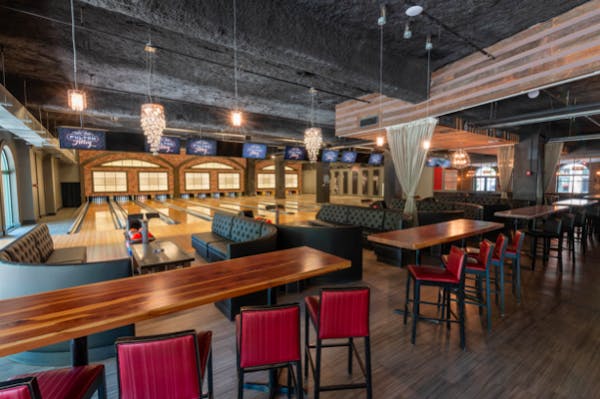 At Fulton Alley, all-American bowling is a luxury experience. Located in the heart of the New Orleans' warehouse district, our prohibition-style cocktail lounge and charming gaming parlor exudes a passion for play.
From plus leather benches to southern-influenced small plates and hand-poured cocktails, we aim to blend a timeless love of gaming with an unforgettable food and drink experience.
Keep reading to find out why New Orleans' very own Fulton Alley is one of the 'best bowling places near me.'
BOWLING WITH A DELUXE SPIN
Fulton Alley isn't the first of its kind in America. Inspired by New Orleans' own Rock 'n' Bowl, a number of national chains boast their own spin on luxury gaming. For example, Lucky Strike harnesses the LA lounge vibe, while Brooklyn Bowl focuses on music.
In the words of Kyle Bretchel, New Orleans restaurant owner and the main force behind Fulton Alley, "We decided that we wanted to win on the food-and-beverage aspect."
Thriving on the camaraderie of gaming, its apparent that the staff at Fulton Alley is a strong purveyor of quality. To put it simply, you won't find any brightly colored bowling shoes at this gaming establishment.
View Fulton Alley lane reservation and peak hours.
SMALL PLATES AND COCKTAILS
When you visit Fulton Alley, you can expect to explore flavors from a number of delicious Southern snacks and small plates. Creatives which derive from none other than opening chef Michael Nirenberg from Hotel Modern's Tivoli & Lee on Lee Circle.
Although 80% of the menu is completely original, some patrons may recognize items like creamy deviled eggs topped with chicken skin or andouille "tots" from the menu at Tivoli & Lee.
Fulton Alley drinks, on the other hand, come courtesy of the team behind Cure, Bellocq and Cane & Table. The drink menu boasts a number of unique cocktails, hand-selected beer, and a wine list that is surprisingly extensive.
The idea behind Fulton Alley's signature cocktails, are delicious flavors that won't distract you from your on-game follow through. The Ole Miss Betsy is a player favorite that stands out with its soothing, yet sharp aroma of cinnamon-infusing brandy. Exchanging Lanes, on the other hand, includes both rye and brandy along with a zesty orange twist.
THE BEST BOWLING PLACES NEAR ME
Fulton Alley offers a luxury experience that ranks high on the list of the best 'bowling places near me.' A place where group entertainment and bold tastes are our speciality.
Make a lane reservation today or stop by to enjoy Happy Hour Monday through Thursday 4 - 7 PM for $3 Paradise Park Draft, $5 Old Fashioneds, Half Priced Glasses of Wine.