New Orleans Small Party Rooms Near Me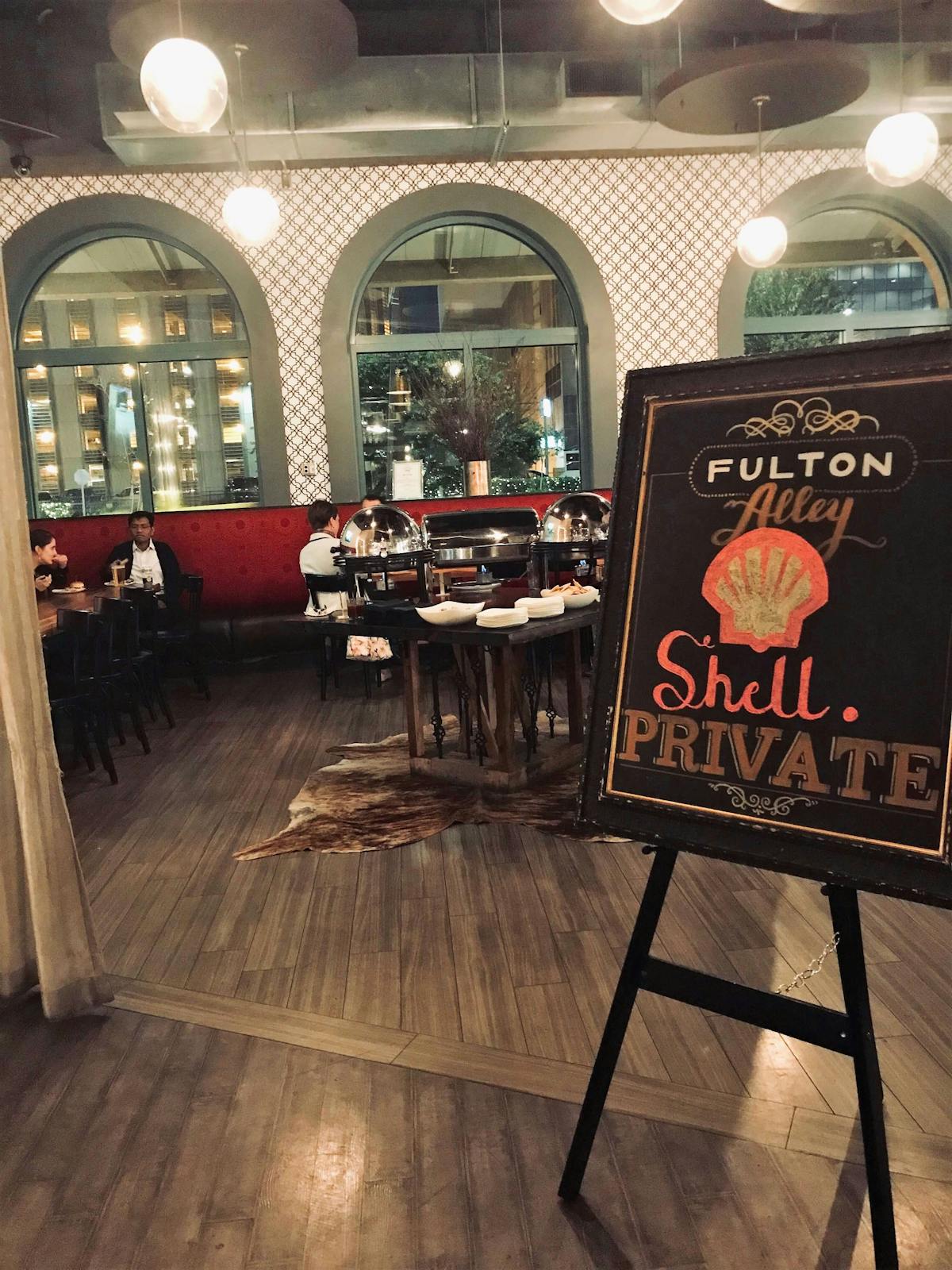 Hosting a celebration is no small feat, especially when it's to honor something as special as a new baby, birthday, family gathering, graduation, or wedding. Rather than shoulder the burden alone, there's always the option to let other people do the heavy lifting for you.
Thankfully, New Orleans is brimming with intimate dining and exciting small party rooms near me. Whether you need a table for 10 or event space for 1000+ guests, Fulton Alley is one party-ready restaurant and luxury bowling alley prepared to leave a lasting impression on you and your guests.
Fulton Alley Private Party Bookings
Fulton Alley private party bookings are perfect for your:
Company event
Corporate meeting
Team-building workshop
Holiday party
Birthday party
Bachelor/bachelorette party
Rehearsal dinner
Wedding reception
Baby shower
Family gathering
And much more!
If we know one thing about NOLA locals, it's that they love to eat, drink, and be merry. Those that visit 'The Big Easy' are invited to do the same. And serious fun for you and your guests starts at Fulton Alley.
At Fulton Alley, we're the experts at creating unforgettable experiences. Whether you're organizing a watch party for the big game or an epic celebration with hundreds of guests, we'll match you with a curated mix of entertainment solutions and mouth watering catering options - including craft food and drink straight from our in-house kitchen and craft bar!
You are unique, and your party should be too. Fulton Alley has a myriad of flexible spaces and small party rooms near me to satisfy your celebration's individual needs and budget. With a combination of classic and cutting-edge amenities, we are able to accommodate groups of all sizes, from 10-1000+ guests for your company events and private party gatherings. Just check out these testimonials from happy customers!
‍"Excellent place for groups, from the small to the large. We had a family gathering there and enjoyed every moment. Everyone from the 20 month old to the 63 year old had a blast. Our group had 20 people in it. We ordered food and drinks. Everything was fantastic."
-Sheila Angelety
"10/10 would recommend Fulton Alley as the venue for your next event. From smaller parties to corporate events, Fulton Alley has the capacity to accommodate whatever you're looking for. The executive team and staff are everything you want - friendly, informative and accommodating. Top notch service all around!"
‍-Team Gleason


Privacy, Sanitation, and Safety Measures
At Fulton Alley, we take the health of our staff, employees, and community seriously. In fact, we receive many compliments regarding our sanitation and safety measures. To ensure privacy amongst other patrons, we are able to designate your section throughout various parts of our large facility. To provide additional exclusivity, we also draw curtains between the lanes. For more information on the steps we are taking to keep our environment safe, please view our Safety Playbook.
If you are ready to throw a bacchanal of any size for your colleagues, friends, or loved ones, Fulton Alley can meet and exceed your needs. For questions or event inquiries about Fulton Alley's small party rooms near me, please fill out the online contact form and a member of our team will assist you shortly.
Check out Fulton Alley's private party brochure.
View more Fulton Alley private party testimonials.