Laid-Back and Luxury Event Venues Near Me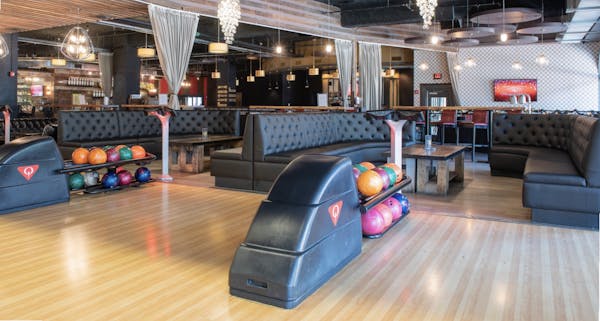 "You can discover more about a person in an hour of play than in a year of conversation." – Aristocles Plato
Fulton Alley isn't just any bowling alley. Our luxurious event venues near me immerse you in a laid-back, boutique atmosphere that will make your guests "ooh and ahhh" at every turn.
From 10-1000+ guests, we're here to curate incredible experiences and strive to make the impossible...possible. Place a Fulton Alley Event Inquiry today and a member of our event team will be in touch to assist you.
FULTON ALLEY EVENT VENUES
Our experienced event team takes pride in delivering unforgettable experiences and service above and beyond client expectations.
We provide a mix of entertainment solutions, flexible accommodations, cutting-edge amenities, and mouth-watering catering options from our world-class kitchen and craft bar.
Explore Fulton Alley's event venues near me, and find all the seductive elements of a great time for every occasion and epic celebration.
Lanes
Ready to get competitive with your posse? Book multiple lines to throw a posh bowling party your guests won't soon forget with land-side food and cocktail service. Enjoy exclusive access to bowling lanes (up to 12), a premium bar, and options private lounge in our vintage bowling alley. Lane concourse accommodates up to 225 guests and up to 8,000 square-feet of space (without lanes) to meet the needs of your event.
Courtyard
From networking events to cocktail parties, the courtyard is perfect for small groups and intimate gatherings. Our covered, outdoor courtyard offers seclusion with access to all Fulton Alley amenities, including exclusive bar access. The courtyard accommodates up to 40 guests with direct access from Convention Center Blvd.
VIP Lanes and Lounge
The Fulton Alley lounge is perfect for any occasion. Whether you're celebrating a milestone, organizing a networking social, or entertaining clients, we can combine the bar and lounge with other spaces to meet your needs. This flexible floor plan and seating area accommodates up to 40 guests or 75 when paired with lane section gallery.
Game Parlor
Want to plan an event that will keep people talking for some time to come? Consider the Game Parlor for your private party. Our brand new Game Parlor has everything you need for serious fun, including shuffleboard, darts, and foosball, and outdoor bocce ball on Fulton Street patio. The Game Parlor accommodates 100 people or up to 150 people when combined with lanes or patio.
Venue Buyout
Fulton Alley is also available for a full venue buyout. What does this include? Full access to all of our event venues near me, including bars, lanes, lounge, and outdoor space. That's 11,000 sq. ft. of flexible indoor semi private space and extended patio space on Fulton Street for a block party that can host up to 10,000 guests!
Interested in throwing an event at Fulton Alley? Place an Event Inquiry and a member of our sales and event team will be in touch to assist you.