Happy Father's Day from Fulton Alley! the Best Bar Near Me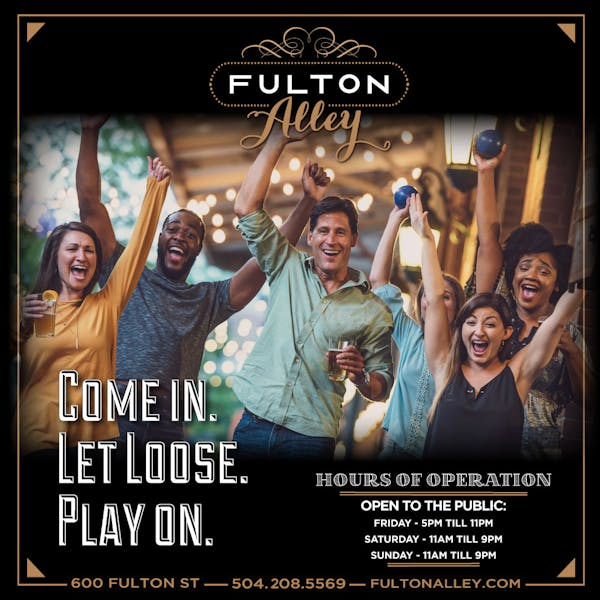 Every year in June, people across the nation struggle with finding the perfect Father's Day gift. It's understandable, dads are notoriously hard to shop for, after all - why is it they never seem to want anything?
It's easy to put a ton of pressure on yourself when Father's Day rolls around (it's June 21st, folks), but Fulton Alley can help put your mind at ease. This year, make your dad feel extra special with an all-in-one experience of food and fun at Fulton Alley - the best bar near me!
Fulton Alley is more than a bowling alley. We are a charming and luxurious gaming parlor and prob prohibition-style cocktail lounge located in the heart of New Orleans' warehouse district. Social gatherings and group entertainment are our speciality. So come on by this holiday, let loose, and let dad have some fun.
YES, WE'RE OPEN!
Yes, Fulton Alley is open to the public! Come on in to enjoy great food and drinks, let loose in our gaming parlor, and play on one of our luxurious bowling lanes. It will be a Father's Day to remember.
At Fulton Alley, the team is working hard to keep our staff, guests, and community safe. We've changed the way we do things, for the better, in response to COVID-19. We will continue to take precautions and be mindful of the health of those around us. Find out more about the steps we are taking to keep our environment safe.
On Sunday, June 21st, 2020, we'll be celebrating all the dads in our life from 11 AM until 9 PM. Can't make it in on Father's Day? We're also open to the public Friday 5 PM until 11 PM and Saturday 11 AM until 9 PM. You can find the best bar near me at 600 Fulton St, New Orleans, LA 70130.
RESERVE YOUR LANES
In New Orleans, just about any reason is a good reason to party, and Father's Day is on the top of our list. Impress the dad in your life by doing something this year - reserving your spot at our luxury bowling alley this year.
Plush leather seating. Lane table-side service. Your dad and the whole family will fall in love with Fulton Alley's luxury bowling experience. Click here to book your lane now for Father's Day on Sunday, June 21st, 2020, or any other day we are open to the public. Bringing the whole family? We welcome guests under the age of 21 before 8 PM.
Do something different this year, and make Fulton Alley your destination for Father's Day. We look forward to celebrating with you at the best bar near me! From our team to yours, Happy Father's Day!