Good Eats and Great Drinks Near Me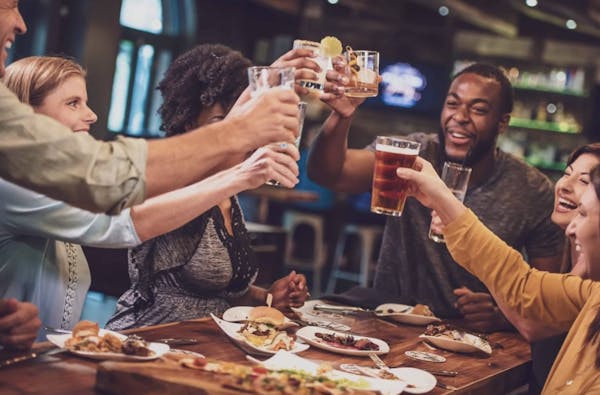 Looking for a unique way to spend a day or night out on the town? Fulton Alley is the luxurious bowling alley you didn't know you needed. As a purveyor of good times in New Orleans, we take our jobs seriously. That means the world's finest games, delicious food, and great drinks near me all in one place!
Fulton Alley is open to the public Friday 5pm - 11pm, Saturday 11am - 11pm, and Sunday 11am - 9pm. Click here to see the steps we're taking to keep our environment safe.
LET THE GOOD TIMES ROLL
Fulton Alley's luxurious decor pairs perfectly with a special lineup of curated beers, cocktails, and a menu that's flawlessly balanced between classic and cutting age. We're the perfect place to turn any visit into a special occasion. We're in New Orleans after all, so come on by for a memorable date night, family outing, or just to hang with friends! We'll help make your visit with Fulton Alley one you'll never forget. So come in, let loose, and play on - drinks near me!
GOOD EATS AND GREAT DRINKS
At Fulton Alley, we walk the line between classic and cutting edge and our food and drink menu is no exception. Try our essential selection of Southern classics, street good, and pub favorites abound:
Creamy Spinach & Artichoke Dip served with Corn Chips.
Classic Black Angus Beef Sliders topped with American cheese and sweet onion pickled relish.
Smoked & Fried Wings prepared Naked, Buffalo, or BBQ and served with ranch.
Oversized and Loaded Baked Potato Tots stuffed with Bacon, Cheddar Cheese, and Green Onion.
Southwest Egg Rolls made with Fajita Style Chicken, Corn, Black Beans, and Mozzarella.
Fried Okra remoulade.
Cajun Beef Meat Pies served with ranch.
Fresh Dip crafted assembled with Shaved Prime Rib and melted Cheddar Cheese, served with Au Jus and Horseradish dipping sauce.
Nothing pairs better with delicious Southern classic plates than than an ice-cold drink. Fulton Alley's drink menu includes a curated selection of beer, wines, and cocktails. Explore our domestics, imports, and drafts starting at $4 below.
Is it time for cocktail hour? Our fully stocked bar and skilled bartenders will impress you with all of your favorites, made with Fulton Alley's special twist. Come by and see for yourself why Fulton Alley is one your number 1 spot for drinks near me in New Orleans!
Domestics:
Bud Light
Michelob Ultra
Miller Lite
Miller High Life
Coors Light
Yuengling Lager
Angry Orchard
Nola Blonde
Things Unsettled IPA
High Noon Flavors
Truly Flavors
Corona Extra
Guinness
Heineken
Heineken NA
Drafts:
Urban South Paradise Park
Urban South Holy Roller
Dixie Light
Blue Moon
Anita Amber
Nola Brewery Seasonal
Click here to view the full Fulton Alley drink menu. We can't wait to play, cheers, and clink glasses with you soon!