Creative Conference Rooms for Rent Near Me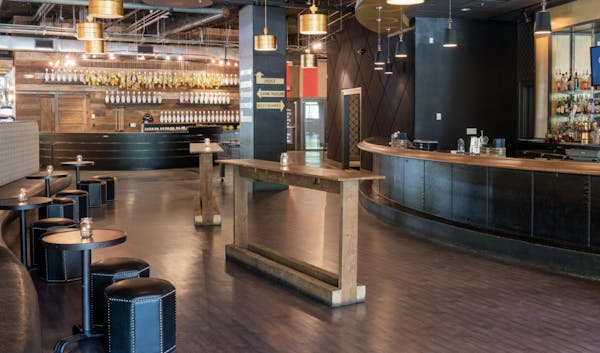 Creative conference rooms for rent near me are hard to come by, that is, before Fulton Alley, New Orleans' Luxury Bowling Alley, was placed on your radar.
A bowling alley may not be the first place you think of when you need to rent a private space. But beautiful VIP lanes and private lounges, unmatched entertainment, and a variety of food and beverage solutions make this luxury bowling alley the perfect host for groups of 10-1000+ guests.
Whether you need a warm way to welcome new employees, a host for your team-building event, or your group is chasing a major deadline, Fulton Alley has all your private event needs covered.
View Fulton Alley's brochure or fill out an online event inquiry for more information!
PRIVATE SPACES FOR CREATIVE BRAINSTORMING
If you've never set foot in Fulton Alley before, you might easily mistake it for a high-end hotel rather than a traditional bowling alley. Located in the heart of New Orleans' warehouse district, Fulton Alley is an enchanting and lavish gaming parlor and prohibition-style cocktail lounge. With a mix of spaces to choose from, it's simple to find the perfect vibe to complement your private event.
Small groups and intimate gatherings will love Fulton Alley's private courtyard, VIP lanes, lounge, and gaming parlor. Each area provides a range of secluded settings and creative conference room for rent near me with access to all Fulton Alley amenities. From entertaining clients to organizing a networking social or marking a milestone, Fulton Alley offers flexible floor plan and seating, exclusive bar access, and customizable spaces that can be combined with other areas to meet the needs of any meeting and event.
Looking to host something larger and have some serious fun? This boutique bowling alley is the perfect place to throw a posh get-together. Show your competitive side with exclusive access to lanes, premium bar, and optional private lines - complete with lane-side service and large flat screen TVs - accommodates up to 225 guests.
BOOK YOUR PRIVATE EVENT TODAY!
When it comes to choosing the perfect conference room for rent near me for your private gathering, making the decision to book your room at Fulton Alley is easy. We're the experts at having fun and have a passion for play - with a mix of entertainment solutions, cutting-edge amenities, and mouth-watering catering options to match.
Give us a call at (504) 882-3024, send us an email at BLAIR@BRECHTELHOSPITALITY.COM, or fill out our online contact form to inquire about your group gathering. A member of our experienced event planning team will be with you shortly.
Fulton Alley is open FRIDAY 5:00PM - 11:00PM, SATURDAY 11:00AM - 11:00PM, and SUNDAY 11:00AM - 9:00PM. We look forward to helping you host your next special event!